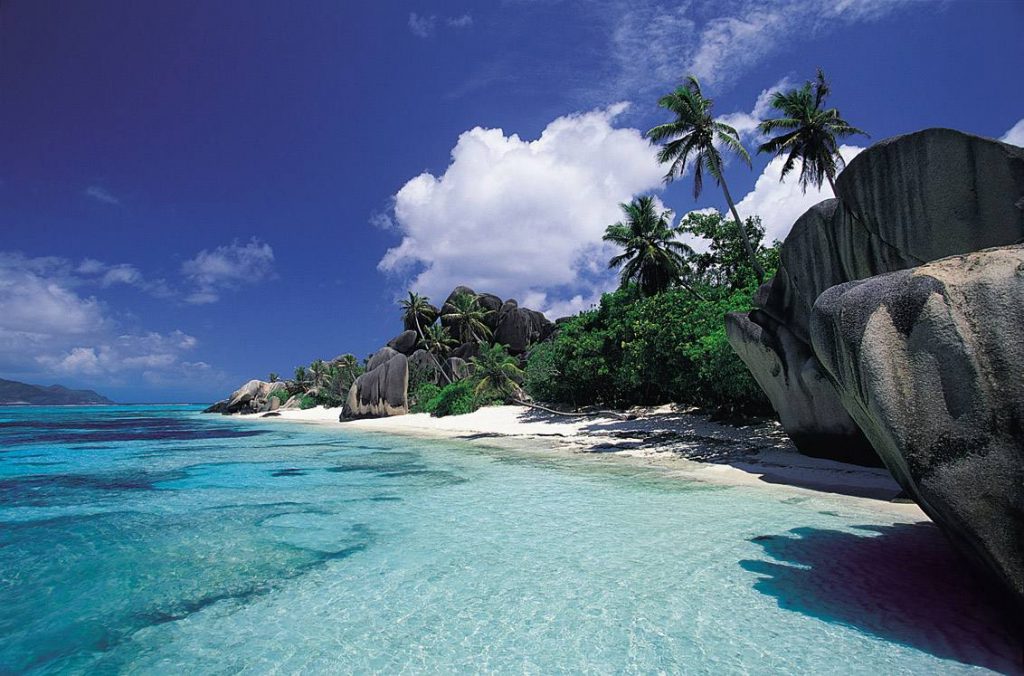 When you think of beautiful surf, your mind may not necessarily envision Africa—but it should. Generally known for its wildlife, Africa's beautiful beaches are often overlooked and as one of the most diverse continents on the planet, Africa certainly holds its own when it comes to picturesque beaches; from clear blue waters to penguin colonies, Africa's best beaches have some great sights to offer.
List Of The Top 10 Best African Beaches 2023:
This list can assist you in planning a mind blowing vacation that has you beach hopping along the shores of South Africa, Seychelles, Tanzania, Morocco, Egypt, Kenya, Madagascar and so many more lust-worthy African shores. Check out these top 10 beautiful beaches and start planning your Africa beach holiday now!
1. Anse Source d'Argent, La Digue, Seychelles
A breathtaking scenery is the highlight of Anse Source d'Argent as the beach is a mixture of clear water, golden sand, and granite formations. It has long been one of the world's most romantic destinations and its beaches feature frequently in global Top 10 lists. Exceptionally clean white sand surrounded by granite cliffs that jut into a clear, blue ocean are just some of the draws of this popular tourist spot.
2. Diani Beach, Kenya
This resort is a favorite for its sparkling blue waters, lush greenery and dozens of nearby safari adventures. You can hire a camel for a ride along the Kenyan coast when you're not bathing in the clear sea or getting a tan and also explore the local villages by bike, or you can choose to simply relax on the white sands and watch the rolling waves. It has been voted Africa's leading beach destination for the third time running since 2015, thus it deserves to be amongst Africa's top 10 beaches 2023.
3. Coffee Bay, Wild Coast, South Africa
It is lined by a beautiful coastal forest and you get to see many rustic bars and lodges plus a plethora of daytime activities ranging from hiking to scuba diving. Coffee Bay has pristine swimming beaches, bars, excellent fishing and breathtaking scenery for walks along the area's rugged coastline.
4. Nungwi, Zanzibar, Tanzania
Nungwi, a village known for the wide palm-lined Nungwi Beach and a nearby boat-building yard that is being used for the production of traditional dhows can be located at the northern end of the Tanzanian island of Unguja, commonly known as Zanzibar. The beach is fringed by palm trees and dusted with the some of the softest white sand imaginable and off the coast, coral reefs teeming with colourful fish can be found thereby making it one of Africa's 10 most beautiful beaches.
5. Bazaruto, Mozambique
Bazaruto, a dune-filled island off the coast of Mozambique sits within a marine park in the Indian Ocean. This archipelago is home to some of the clearest waters in Africa and is known for its prime snorkeling, diving, luxury digs like and easy fly-in access. It has a huge environment that is full of limestone rocks and dunes with an ever-expanding sandy coastline. The clear waters are filled with colorful fish, reef sharks and moray eels, while the deeper area is home to sailfish and marlin.
6. Santa Maria, Cape Verde
It has hotels, cafes, and restaurants starting from the low end to the high end. The area's clear waters are home to rays and sea turtles and surfers are regular customers of the beach as well, for the waves. There are several hotels and beach pavilions at this promenade where you can enjoy a cold drink…..for this alone it deserves a chilling spot amongst the 10 best beaches in Africa.
7. Tamarin Bay, Mauritius
Tamarin has two world renowned surfing spots: 'Dal' on its left (south) and 'Black Stone' on the right (north) of the bay. The waters aren't very gentle so you might need a bit of experience to appreciate the surf but it doesn't deter it from being one of the most beautiful beaches in Africa 2023.
8. Le Sainte-Marie, Madagascar
Le Sainte-Marie which was a popular haven for pirates during the 17th century is now much more developed when compared to a few years ago. It is known for whale watching as substantial groups of humpback whales (Megaptera) migrate from the Antarctic to this breeding ground in season (July to September) and dive among gorgeous coral gardens.
9. Sharm el-Sheikh, Egypt
Situated between the desert of the Sinai Peninsula and the Red Sea, it provides some of the most stunning underwater scenery and warm water, thereby making this an ideal place to dive. It's known for its sheltered sandy beaches, clear waters and coral reefs. Many activities such as diving, snorkelling, windsurfing, kite surfing, para-sailing, boating, and canoeing takes place here.
10. Dakhla, Morocco
Asides, Morocco's diverse cuisines, the white beaches are another reason to visit. Recently the town has become a centre for aquatic sports, such as kite surfing, windsurfing and surf casting. Dakhla, Morocco has an awesome weather, a great scenery, and some of the best watersports facilities in the world.