Women's rights and lives are at risk in Afghanistan as a result of the Taliban's takeover of the country.
Between 1996 to 2001, when the Taliban was in control, women were prohibited access to school and work. Girls were not permitted to attend school, and women may only be seen in public with a male escort and with their bodies completely covered. Disobedience to these tight regulations resulted in harsh punishments ranging from beatings to execution.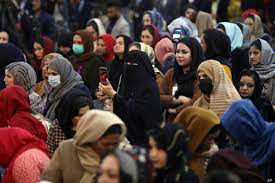 Women's rights in Afghanistan have improved since 2001. The number of girls enrolling in school has increased, while child death rates have dropped. However, if the Taliban reclaims control, that development may be reversed fast.
According to Shabia Mantoo, a spokesman for the United Nations Refugee Agency, 80 percent of the roughly 250,000 individuals forced to abandon their homes in Afghanistan since the end of May have been women and children. According to a United Nations study issued last month, the number of women and children killed and injured surged in May and June, about the same time as the United States and other foreign troops began withdrawing their remaining soldiers from Afghanistan.

"Please remember the Afghan women and girls in your prayers. A tragedy is playing out right in front of our eyes "UN Women Executive Director Phumzile Mlambo said. "We're keeping a careful eye on the situation in #Afghanistan. Our group is secure. 
They 
are 
unhappy, 
but 
peaceful, 
and 
they 
are 
taking 
refuge 
in 
their 
current 
location 
"According 
to 
the 
organization. 
"Whatever 
happens 
in 
the 
next 
days, 
we 
remain 
committed 
to 
the 
concept 
that 
women 
can 
and 
should 
play 
a 
role 
in 
shaping 
Afghanistan's 
future. 
Our 
global 
group 
of 
supporters 
is 
more 
important 
than 
ever."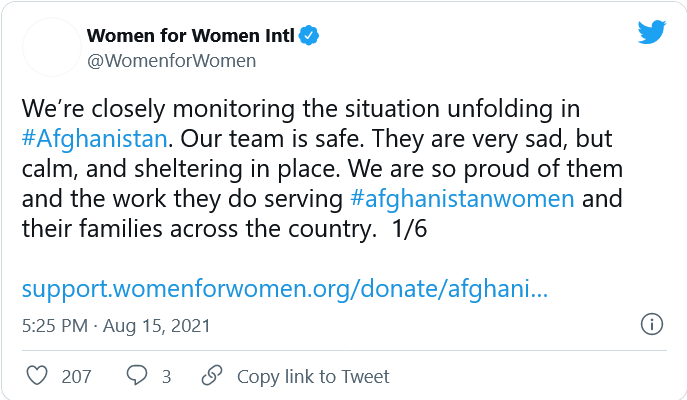 The 
Georgetown 
Institute 
for 
Women, 
Peace, 
and 
Security 
is 
also 
letting 
people 
know 
how 
they 
can 
help.
Melanne 
Verveer, 
the 
institute's 
director, 
co-wrote 
an 
op-ed 
in 
The 
Washington 
Post 
urging 
the 
US 
government 
to 
do 
more 
to 
safeguard 
Afghan 
women. She and her co-author, Mina's List's Tanya Henderson, called on the US to charter direct evacuation flights for Afghan women activists and finance relocation efforts with money authorized for Afghan refugees by the Biden administration.
"For Afghan women and girls, it is a hazardous time," the institution stated on its website. "The Taliban is gaining ground every day, assassinating female leaders, assaulting schoolgirls, and regressing women's rights in the process. We're running out of time to avoid the worst-case scenario."