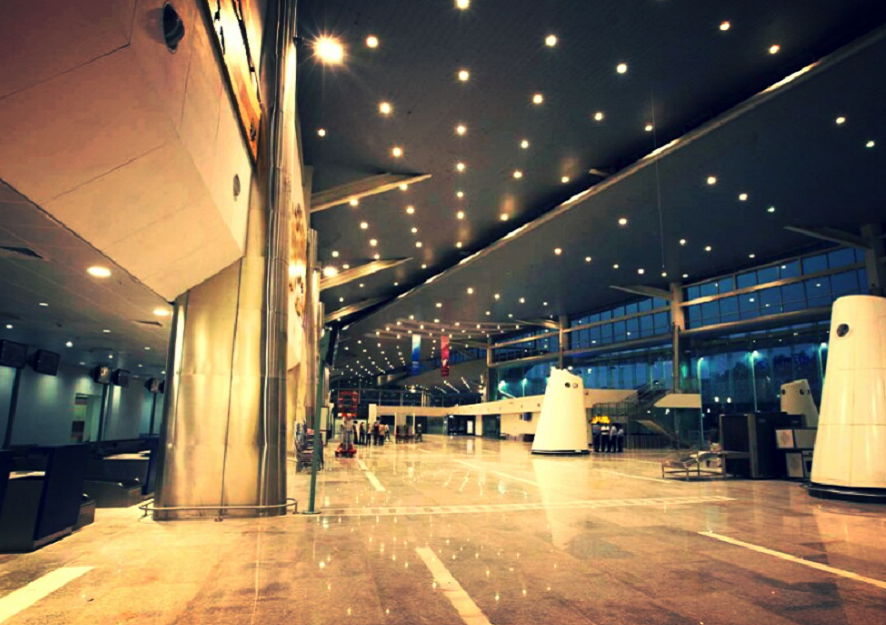 The Skytrax World Airport Awards are voted for by customers in a global airport customer satisfaction survey. Apart from counting down the 10 best airports, Skytrax honours for categories including regional airports, airport dining, best airport staff, baggage delivery and cleanest airport.
For the seventh consecutive year, Singapore Changi Airport was voted as the World's Best Airport 2021 by international air travellers.
The airports are Cape Town airport, Durban airport, Johannesburg airport in South Africa and Mauritius airport.
Skytrax announced this on Wednesday, in its annual World Airport Awards at the Passenger Terminal Expo in London, England.
Changi Airport Singapore is voted as the World's Best Airport 2019 by international air travellers for the seventh consecutive year.
Edward Plaisted, CEO of Skytrax said: "to be voted the World's Best Airport for the seventh consecutive year is a truly fabulous achievement for Changi Airport, and this award continues to underline the airport's popularity with international air travellers. Changi Airport is very focused on continually improving the customer's airport experience and innovating with new product and service features. The opening of the Jewel Changi Airport in April 2019 looks set to add another unique dimension to the experience for Changi Airport customers. Winning this award as the World's Best Airport is a very clear recognition of the team effort amongst all staff at the airport who contribute to Changi Airport's success."
List Of The Top 10 Best Airports In Africa 2021:
10. PORT ELIZABETH INTERNATIONAL AIRPORT, SOUTH AFRICA
Owned and operated by the Airports Company South Africa, Port Elizabeth International Airport is located approximately two miles south of the city, earning it the nickname of the "Ten minute airport", because it is less than ten minutes' drive from most major areas of the city.
Port Elizabeth international airport currently handles more than 1 million passengers every year and over 800 tons of cargo, including flowers, frozen lobster, etc. With the modern terminal upgrade, the airport can handle up to 2 million passengers a year.
9. JOMO KENYATTA INTERNATIONAL AIRPORT, NAIROBI, KENYA
Jomo Kenyatta International Airport is Kenya's biggest airport and the busiest airport in the eastern and central African region. It is named after the first Kenyan Prime Minister and President Jomo Kenyatta and it serves more than 5.1 million followers per year. The airport saw some expansion work in it to double its capacity along with a planned rail link.
8. MURTALA MUHAMMED INTERNATIONAL AIRPORT, LAGOS, NIGERIA
This airport is located in Lagos, Nigeria and it's the major airport serving the country, with 6.3 million passengers a year. The airport was officially opened on 15 March 1979. With both domestic and international terminals, the total aircraft movement figure stands above 100,000 per year and handles more than 6 million passengers every year; making it one of the biggest

7. MOHAMMED V INTERNATIONAL AIRPORT, CASABLANCA, MOROCCO
Operated by ONDA (National Airports Office), the airport is located 30km southeast of Casablanca and is the busiest airport in Morocco with almost 7.3 million passengers passing through the airport in each year. It was named after the late Sultan Mohammed V of Morocco. Every week, there are about 182 flights to Paris, over 17 flights to New York, and more than 14 flights to Dubai and Frankfurt. Casablanca is one of the main trading and industrial cities in the southern Mediterranean, It is believed that the cargo operations will drastically expand in the coming few years.
6. SHARM El-SHEIKH INTERNATIONAL AIRPORT, SHARM El-SHEIKH, EGYPT
Sharm El-Sheikh Airport as the sixth largest african airport 2020. The airport has approximately 10 million passenger traffic yearly. The airport is located in the heart of the resort area just near the Red Sea coast. The Egyptian Airports Holding Company announced plans to build a third new terminal at the airport which will double its capacity from 7.5 to 15 million passengers per year. The infrastructure of the airport has been constantly improved in order to increase the passenger services quality.
5. HURGHADA INTERNATIONAL AIRPORT, HURGHADA, EGYPT
Sharm El-Sheikh Airport is named after it's city, Sharm El-Sheikh in Egypt and is very busy than many other bigger airports. The air facility serves Hurghada, the centre of Red Sea Governorate of Egypt, the seaport city of Safaga and a lot of other amazing Red Sea beach and aquatic sports resorts like Al Quseir, Soma Bay, El Gouna, Al-Mahmya, Sharm El Naga and Makadi Bay. It is currently served by one terminal. But plans are already in top gear to make it a cynosure of all eyes while passengers will have access to a wide variety of stores, duty-free boutiques and restaurants.
4. CAIRO INTERNATIONAL AIRPORT, CAIRO, EGYPT
Fourth on the list is Cairo International Airport, Egypt. It is the fourth best, offering service to over 65 international airlines. Located to the north-east of the city around 15 kilometres (9.3 mi) from the business area of the city, it has an area of approximately 37 kilometres square. The airport has three terminals and a new cargo terminal was recently constructed. It boasts of over 65 international airlines plying all over the world. It is radically improving and with expansion, it may soon overtake Oliver Tambo International airport.
3. KING SHAKA INTERNATIONAL AIRPORT, DURBAN, SOUTH AFRICA
King Shaka International Airport, also known as La Mercy Airport is the primary airport serving Durban, South Africa. Located approximately 35 km north of the city of Durban, this world-class facility offers a host of features to make your travelling experience as comfortable and pleasurable as possible. King Shaka International is said to be three times bigger than Durban International airport and has five times as many shops. At only 8 years, it has drastically grown to be one of the biggest and busiest airports in Africa 2020 and it has a large clientele of 5 million passengers each year. It has the capacity to handle 7.5 million passengers, with much room for future expansion if need be.
2. CAPE TOWN INTERNATIONAL AIRPORT, CAPE TOWN, SOUTH AFRICA
Cape Town International Airport is Africa's second biggest airport, located approximately 20km from the city centre. It has established a reputation as Africa's premier international award-winning and VIP destination, consistently performing among the best in the world for service in its category. In the year 2015, 14 million passengers passed through Cape Town International.
1. OR TAMBO INTERNATIONAL AIRPORT, JOHANNESBURG, SOUTH AFRICA
One phrase describes this airport- best biggest and busiest in South Africa. OR Tambo International Airport (ORTIA) Johannesburg tops the list of best airports in Africa 2021. It is the air transport hub of Southern Africa. Handling more than 17 million passengers each year and the recent infrastructure upgrades mean that OR Tambo can now handle up to 28 million passengers a year. More than 18,000 people are employed by various companies at OR Tambo, and the airport plays a key role in the Gauteng province's economy. The airport is named as a tribute to one of South Africa's most important founding fathers; Oliver Reginald Tambo, fondly known as O.R. by his peers, for his significant contribution to the liberation of South Africa.
Top 10 Most Expensive Buildings In Africa 2021